Beef Variety Bundle 50lb (1/8 Beef) - Deposit
Regular price
$200.00 USD
Regular price
Sale price
$200.00 USD
Unit price
per
Sale
Sold out
This box is 50 pounds of some of the best beef you've ever tasted! We have hand selected these pasture raised cattle for this Fall 2023 Bulk Beef Sale. These cattle are antibiotic, vaccination and hormone free. Raised their entire lives on pasture and supplemented with grain during the finish to get that perfect final marbling.
Each 50lb bundle (approximately 1/8 beef) will include an assortment of the following:  
premium steaks - ribeye, strip and filet 7 to 8 lbs
roasts - chuck and rump 7 lbs
stew meat and beef shank 5 to 6 lbs
sirloin, minute steaks and skirt steak 4 lbs
And of course ground beef 20 to 25 lbs
soup bones 5lbs
The mix of cuts and associated weight may vary. But rest assured you'll get at least 50lbs in your bundle.
To give you certainty, we keep our pricing simple. We collect an upfront deposit and we bill you for the final amount just prior to delivery.  There are no additional adjustments.
The full price for the bundle is $679.00. To lock in your purchase, we collect a nonrefundable $200 deposit which enables us to finish raising your beef and to pay our butcher.  
Share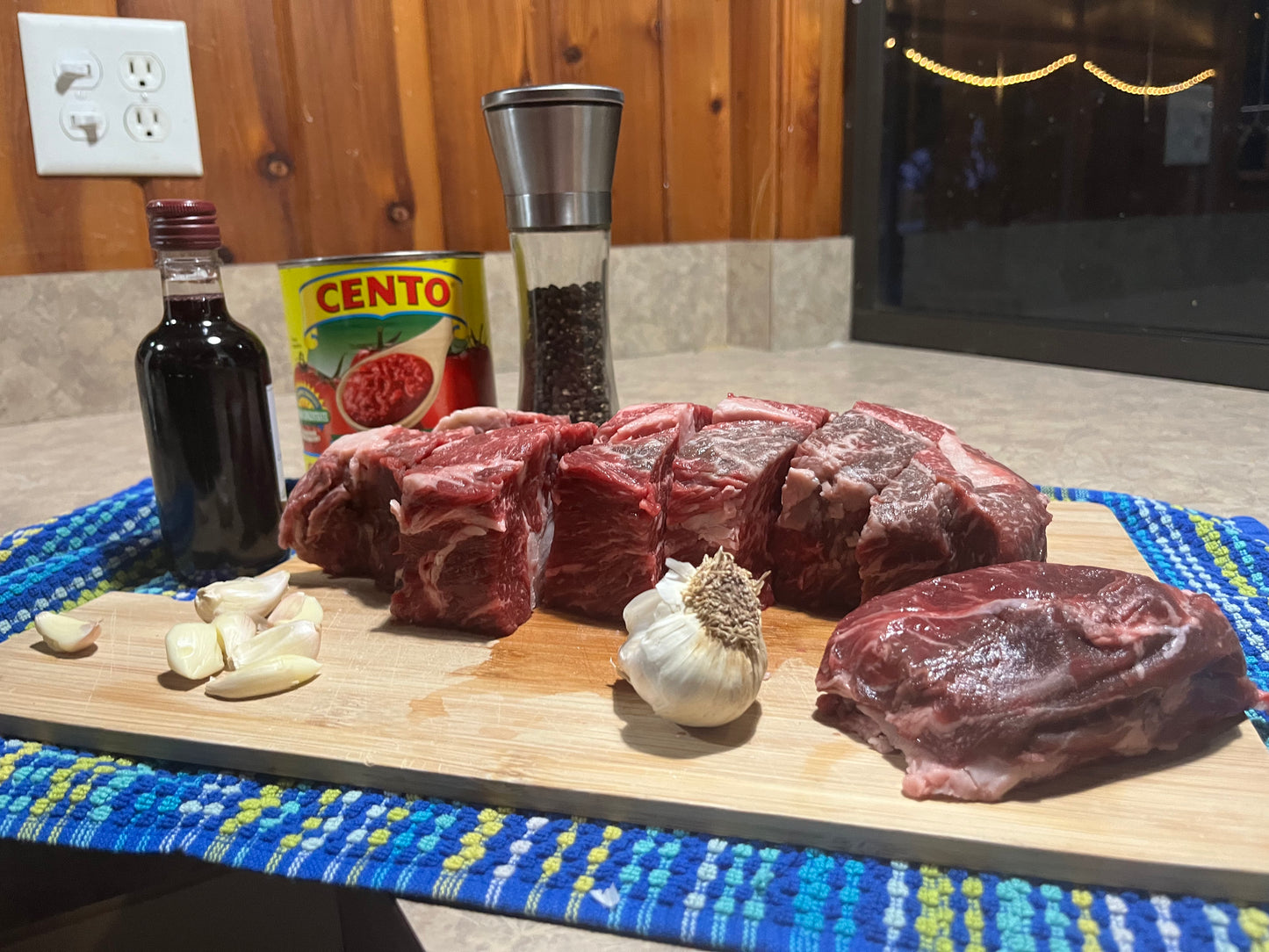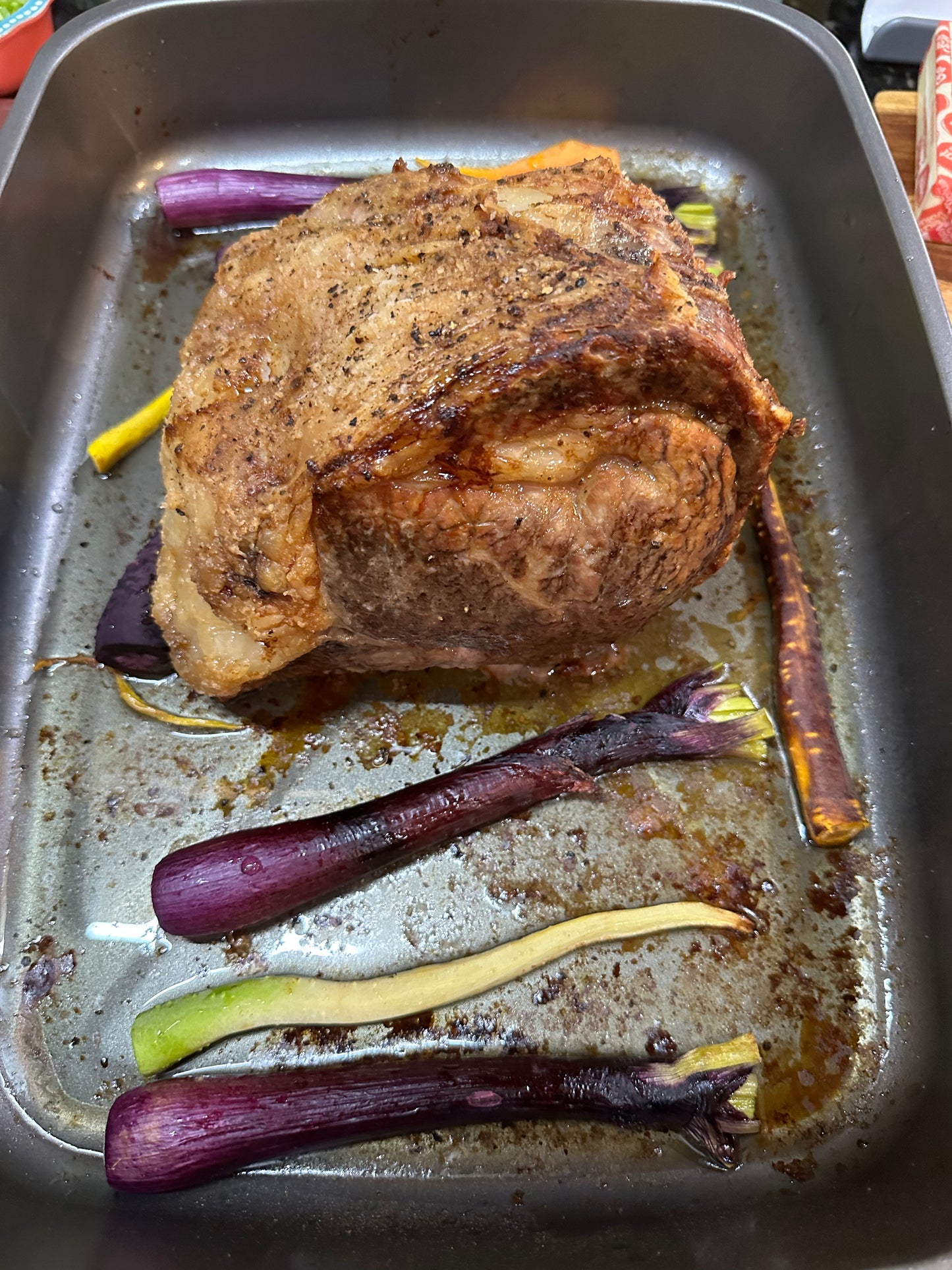 Delicious and Nutritious Pasture Raised Chicken and Beef
Know how your food was raised
Food unadulterated with medications and hormones
Humanely raised in Florida - The USA! Not Mexico or Brazil or who knows where!
Our Guarantee
We are so sure that you are going to love our chicken and beef that we stand behind it 100% with a money back guarantee!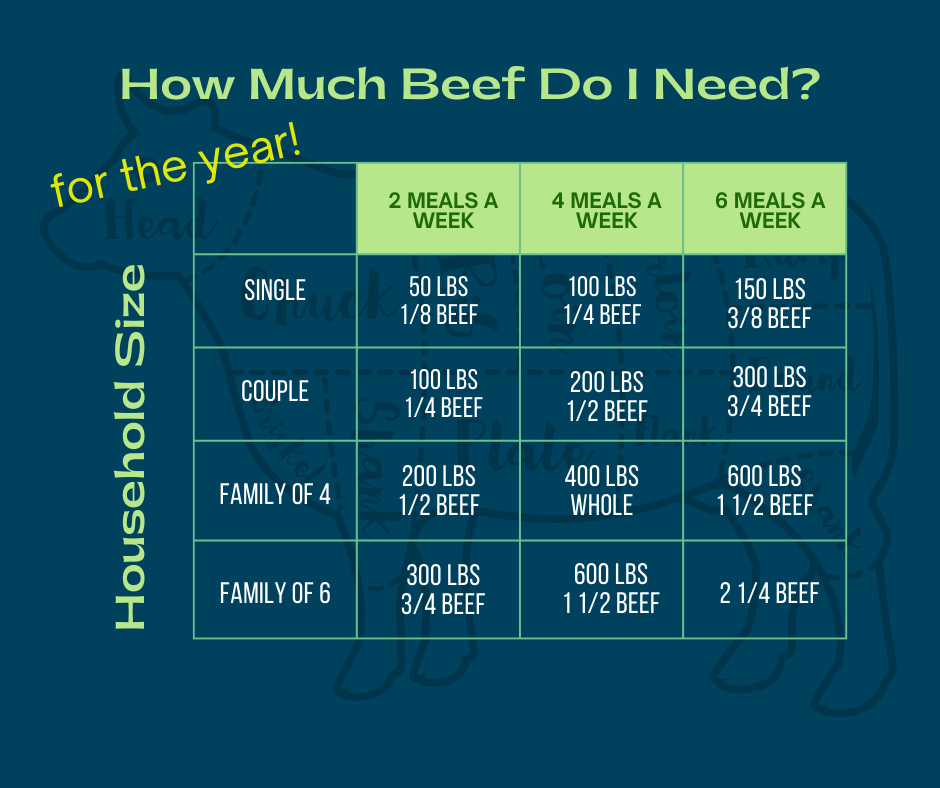 How much beef do we need?
Check out this table for your family size and how many beef meals you might eat each week.
Lets talk about freezer space...
Here is another handy table to help you plan how much freezer space you'll need for 6 to 12 months worth of beef. Hang in there! It will be worth it!
Christy Cole:

Uncle Swabb's chicken is amazing! Whatever you want to call it organic, semi organic…labels, labels, labels. How about this for a label…Simply Delicious. Great job Bruce and the whole family who take the time to feed us, educate us, and put a smile on our faces.

Mary Corso:

The BEST chicken I have ever tasted. I can never go back to any other supermarket chicken now. The cutlets are so tender when sliced and fried. I can't stop eating the sweet meaty chicken wings. But, my family's favorite is Uncle Swabb's Spatchcock chicken! So easy to brine, season and grill. I am so happy I ordered the June and July beef/chicken combos. I am excited to see what the bulk beef fall selections will be. My mail order came to my home with no problems and was packed beautifully! Today was Father's Day 2023, and the beef steaks, grilled over the coals, tasted outstanding. Unlike nothing I have ever tasted before :) :) :) And Uncle Swabb's and his family are the kindest folks and were super at communicating with me.  5 Starsestimonial

Sarah Hernandez:

I have been eating the chicken from Uncle Swabb's and the beef from Trinity Ranch since January 2023 and will never go back to store bought chicken and beef. My stomach issues have disappeared. The quality is like nothing I have ever seen before. Bruce from Uncle Swabb's and Frankie from Trinity truly care about providing their customers with a quality product and stellar customer service, and it shows in every single interaction I have with them. Make the switch and I promise you will not be disappointed!
Bonus #1 - A Chunk of Brisket!
On our Big Opening Day of deposits, be one of the first 8 folks to place your deposit and get a FREE cut of brisket! There are only two briskets per beef, so we've decided to give them as our way of saying Thank You!
Each brisket will weigh between 3 and 4.5 pounds.
Bonus #2 - The Italian Slow Cooker Cookbook by Michele Scicolone
This is one of our longtime family favorites with lots of great beef and chicken recipes - and perfect for family meals that create dinner while you work all day! We have searched and scratched up 8 copies of this cookbook for our early bird bulk beef customers. We aren't giving up our copy though!
Bonus #3 - 2LBS of our Provencal Chicken Sausage
2 one-pound packages of our handmade chicken sausage with the unmistakable Fall flavors of herbs de Provence. A perfect addition to your Fall family meals.
Frequently Asked Questions
So - how much is shipping?

There is no additional charge for shipping. Now, we both know it isn't free, but to give you more price certainty, we baked our cost of shipping and all the insulated box materials into our price.
When will I get my beef after I make a deposit?

Our deposit period is from July 15 to August 14, or until we sell out. We will harvest the beef in mid to late September when each animal is in peak condition. We will be starting our deliveries in the first week of October. Delivery time is usually one day, and we will be in close touch during that time.
How long will the beef last in the freezer?

Our beef will be professionally vacuum sealed by our butcher and you can expect up to a two-year shelf life, with no freezer burn.
Why is this any different from grocery store beef?

Oh boy! We could go on for quite a while on that question. To get to the most important differences, our beef (and chicken) are raised on pasture their full lives - no confinement, they are not medicated with anti-biotics and mRNA, and you know exactly where they came from and who raised them. Grocery store beef labelling can be deceptive and beef may have been raised in another country.

We almost forgot - FLAVOR! No comparison!